PA System Deal
R39,995.00
2 x Peavey PVX 15″ passive speakers
1 x Behringer PMP 6000 powered mixer
2 x Speaker stands
2 x Speaker Cables
Description
PA Systems or Public Address Systems reinforce a given sound and are widely used for reasons ranging from public speeches to live gigs, festivals and more.
At AMA MUSIC AND MULTIMEDIA we want to make buying PA's as easy as possible and for this reason we offer PA packages. These packages can differ from a simple speaker and a mixer package to speaker, mixer, stands, cables and microphones packs containing everything you need to set-up your own PA system.
Included in this pack
2 x Peavey PVX 15″ passive speakers
1 x Behringer PMP 6000 powered mixer
2 x Speaker stands
2 x Speaker Cables
DESCRIPTION:
Peavey PVX 15″ passive speakers
Lightweight yet road-ready, Peavey's PVx 15 passive loudspeaker gives you the sound reenforcement you need. Ultra-rugged molded polypropylene shells and scuff-resistant powder-coated stell grilles are the key to the PVx 15 durability, allowing it to easily withstand the routine wear that comes with transporting your speakers from gig to gig. At the same time, Peavey gave the PVx 15 a well-balanced combination of drivers, including a lightweight 15″ neodymium woofer and an RX 14 1.4″ titanium-diaphragm compression driver – easily able to handle up to 800 watts (peak). Grab a pair of Peavey PVx 15 passive speakers for your next show.
Peavey PVx 15 Passive Loudspeaker at a Glance:
Easy-to-transport, lightweight designNo one like hauling around heavy gear. That's why Peavey built the PVx 15 to be as lightweight as possible, without sacrificing durability. What's more, the PVx 15 features a number of molded-in cabinet handles for extra grab-and-go convenience. And when it comes to flying a PVx 15 speaker, multiple in-cabinet fly points make the job easy.Built tough for life on the road Peavey built the PVx 15 enclosure from high-tech molded polypropylene, which absorbes shock and resists scratches like a champ.Plenty of power and projectionWhether you're blasting music, amplifying vocals, or just need a good speaker for speech sound re-enforcement, your Peavey PVx 15 passive loudspeaker will do the trick. It handles 400 watts (800 peak), driving a highly-efficient speaker, allowing a pair of PVx 15s to easily cover audiences in the hundreds. What's more, built-in pole mounts let you easily elevate your PVx 15 loudspeaker, increasing their effective range.
Peavey PVx 15 Passive Loudspeaker Features:
Excellent-sounding, lightweight, and rugged portable 2-way passive PA speakers
Rugged polypropylene molded enclosure for lightweight durability
A 15″ neodymium woofer and RX 14 titanium driver handle a total of 400W RMS (800W peak)
Multiple in cabinet fly points and built-in poll-mount socket let you conveniently elevate your speakers
Molded in cabinet handles for easy transportation
Angled sides let you position it as a monitor wedge
1/4″ parallel inputs let you daisy chain your speakers
Get the sound reenforcement you need on the go with Peavey's PVx15 passive PA speaker!
Behringer PMP 6000 powered mixer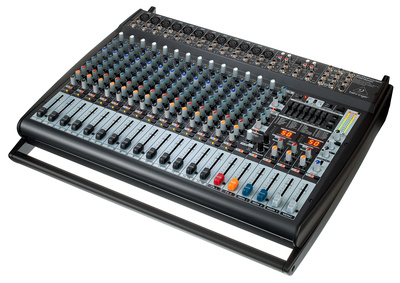 The Behringer PMP6000 produces even more power (2 x 800-Watt stereo, 1600-Watt bridged mode) than its predecessor, while maintaining a famously low weight and high efficiency. The PMP6000 employs Class-D technology including a switch-mode power supply, significantly reducing weight and heat. The 20-channel PMP6000 features 12 built-in XENYX preamps, with 24-bit FX processors and FBQ Feedback Detection.
Features:
Ultra-compact 2 x 800-Watt stereo powered mixer (1600 Watt bridged mode)
Revolutionary Class-D amplifier technology: enormous power, incredible sonic performance and super-light weight
Ultra-compact design at nearly half the weight of conventional powered mixers
2 studio-grade 24-bit stereo FX processors with 100 awesome presets including reverb, chorus, flanger, delay, pitch shifter and various multi-effects
Revolutionary FBQ Feedback Detection system instantly reveals critical frequencies for easy feedback removal
12 high-quality XENYX Mic Preamps with switchable +48 V phantom power for condenser microphones
Effective, extremely musical 3-band EQ, switchable Low cut filter, and Clip LEDs on all mono channels
Stereo 7-band graphic EQ allows precise frequency correction of monitor or main outputs
Voice Canceller function removes singer's voice from recordings for karaoke applications
Selectable stereo (main L/R), double mono (main/monitor) or bridged mono amplifier operation mode
Speaker Processing function adjusts frequency response to match professional speaker systems like Behringer Eurolive series, etc.
Standby switch mutes all mic input channels during breaks while background music is provided via CD/Tape input
Breathtaking XPQ 3D stereo surround effect for more vitality and enhanced stereo image
Adjustable stereo 2-Track input for connecting external line sources
Multi-functional stereo Preamp outputs for added flexibility
Internal switch-mode power supply, noise-free audio, superior transient response and very low power consumption
High-quality components and exceptionally rugged construction ensure long life
Conceived and designed by Behringer Germany
Class-D Technology
Instead of operating relatively continuously like Class AB circuits, Class-D amps switch on and off thousands of times per second, delivering power only when needed. In other words, the amplifier is either fully on or fully off, which significantly reduces power losses from the output devices given off as heat. Less heat means the amps don't need massive heat sinks, and that means Bthey can be made lighter. Behringer's no-compromise design means the Behringer PMP6000 will deliver full power with incredible fidelity all night long, without the need for lengthy rest cycles.
When used in conjunction with switching-mode power supplies, which don't require huge and heavy transformers, the Class-D amplifiers inside the Behringer PMP6000 provide tremendous dynamic punch and superior fidelity. The resulting system is much lighter, making it easy to transport and set up.
Massive Mono or Stunning Stereo
The Behringer PMP6000 gives you the choice of 2 x 800-Watt stereo, 2 x 800-Watt dual mono mode (giving you a mono version of the main signal through one powered output plus a mono version of all monitor send signals through the second powered input) or 1,600-Watt bridged mono sound. Whether the center of attention happens to be a folk trio, a speech, or a synth-rock band with mind-boggling stereo patches, the PMP6000 can accommodate. This sonic versatility also makes it an excellent choice for churches, where vocals and stereo recordings often share face time.
Classic Control, State-of-the-Art Sound
Leave the mic preamps at home, because the quality of sound that was once only available in the studio is ready to go wherever you do. Built-in, boutique-caliber mic preamps with switchable +48 V phantom power make it possible to use either dynamic or condenser mics with the PMP Series. The Behringer PMP6000 gives you 12 mic inputs.
Built-in Digital Effects Processor
The generation of PMP mixers come equipped with 24-bit FX processors, giving you 100 mind-blowing digital effect presets such as delay, chorus and reverb. Apply them to any channel, as well as to the monitors and main output. In case you're pulling double duty as sound engineer and performer, the FX processors features a footswitch jack for remote on/off . Of course, if you have treasured outboard gear you've grown attached to, these mixers can integrate them into the mix while leaving out the built-in FX processor.
Flexibility
The Behringer PMP Series gives you excellent flexibility to accommodate whatever a performance requires. You get 12 channels for mics, guitars and other mono instruments. Stereo channels 13-20 are designed to work in pairs as stereo channels, or independently for more mono instruments. All mono channels have 3-band EQ, switchable Low cut filter for eliminating infrasonics, and Clip LEDs to indicate when the input signal is too hot.
A standby switch mutes all mic channels during breaks, preventing the microphones from picking up noise or interference. You can leave all faders untouched while you play a CD via the CD/TAPE inputs.
The FBQ Feedback Detection system automatically shows you which frequencies are causing feedback. Just touch the FBQ button and watch the red LEDs on the 7-band graphic EQ pinpoint show you which frequencies to adjust for optimized sound, without the feedback.
Inputs and Outputs
Use the CD/Tape In RCA inputs to feed in external stereo signals from CD players or tape decks. The Voice Canceler switch eliminates the vocals from pre-recorded music for instant karaoke applications.
CD/Tape Out RCA outputs send line-level signals from the mixer to a recording device. The left and right output connectors can be used for a variety of purposes, including connecting more power amps. Connect monitor power amps or active monitor speakers to the Mon Sound output. Powered outputs on these mixers are available in professional Speakon-compatible format.
Small, Simple, Superb
Medium-sized events call for a lightweight, easy-to-use powered mixer. At 28.9 pounds, the Behringer PMP6000 powered mixer is the most efficient, affordable mixer for the job. With technological advantages and incredible built-in features, it's easier than ever to lend exceptional sound quality to all kinds of public performances.
Added to package are 2 x speaker stands and 2 x speaker cables.